Almost 100,000 people are hospitalised in the US from coronavirus, a record high, as states and cities scramble to implement strict new social measures following Thanksgiving and with the Christmas holidays looming.
According to Axios, the Food and Drug Administration (FDA) commissioner, Stephen Hahn, was summoned to the White House on Tuesday to explain why no vaccine has yet been approved.
After the meeting Hahn said federal officials would take the time needed to assess emerging vaccines, despite increasing pressure.
"No one at FDA is sitting on his or her hands. Everyone is working really hard to look at these applications and get this done," Hahn told ABC in an interview on Instagram Live. "But we absolutely have to do this the right way."
Top public health official Anthony Fauci said the US was "not in a good place" after many ignored guidance not to travel for Thanksgiving, and warned of a further surge in two to three weeks.
The number of people being treated in hospital for Covid-19 stood at 96,039 on Monday, almost double the total at the start of November, according to the Covid Tracking Project. There have been 13.5m coronavirus cases in the US and 268,045 people have died.
In an interview with the Facebook chief executive, Mark Zuckerberg, Fauci said the US faced "a surge, superimposed on a surge".
"What we have done with Thanksgiving, Mark, we're not going to see the repercussions of that for two to three weeks now," Fauci said.
"Which would put it right at the time that people would be travelling for Christmas. So all things considered, we are not in a good place."
Los Angeles county, home to 10 million, imposed a stay-at-home order on Monday, while Santa Clara, also in California, announced a quarantine for anyone who had travelled further than 150 miles away.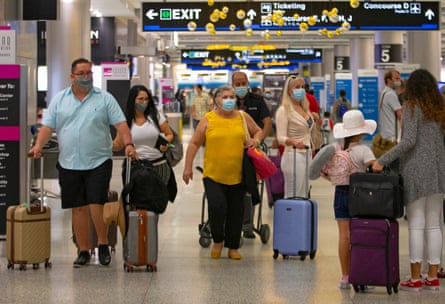 In Hawaii, the mayor of Hawaii county said trans-Pacific travellers arriving without a negative Covid-19 test must quarantine for 14 days, and even those who had tested negative might be randomly selected for another test upon arrival.
New Jersey is suspending all youth sports. On Sunday, California, the most populous state, became the first to record more than 100,000 cases in one week, the New York Times reported. Governor Gavin Newsom warned that hospitals could be close to full by Christmas.
"If these trends continue, California will need to take drastic action," Newsom said in a briefing.
Nearly 37,000 Americans died of Covid-19 in November, the most in any month since the dark early days of the pandemic, engulfing families in grief, filling obituary pages of small-town newspapers and testing the capacity of morgues, funeral homes and hospitals.
Amid the resurgence, states have begun reopening field hospitals to handle an influx of patients that is pushing healthcare systems and their workers to breaking point.
Hospitals are bringing in mobile morgues. And funerals are being livestreamed or performed as drive-by affairs.
"I have no doubt that we're going to see a climbing death toll … and that's a horrific and tragic place to be," said Josh Michaud, the associate director of global health policy at the Kaiser Family Foundation.
November's toll was far lower than the 60,699 recorded in April but perilously close to the next-highest total of almost 42,000 in May, according to data compiled by Johns Hopkins University.
Deaths dropped to just over 20,000 in June after states closed many businesses and ordered people to stay at home.
At Mercy hospital Springfield in Missouri, a mobile morgue that was acquired in 2011 after a tornado ripped through nearby Joplin and killed about 160 people has been put into use again.
At the Bellefontaine Cemetery in St Louis, burials are up by about one-third compared with last year, and the cremated remains of about 20 people are sitting in storage while their families wait for a safer time to hold memorial services.
The Minneapolis Star-Tribune had 10.5 pages of obituaries on 15 November.
In Worcester, Massachusetts, the national guard trucked in items needed to operate a 250-bed field hospital that is on standby.
Rhode Island opened two field hospitals accommodating 900 beds combined, after regular hospitals reached their coronavirus capacity on Monday.
New York City, the world hotspot earlier in the year, reopened a field hospital last week on Staten Island.
Wisconsin has a field hospital in West Allis ready to take overflow patients.
"Hospitals all around the country are worried on a day-to-day basis about their capacity," said Amesh Adlaja, a senior scholar at the Johns Hopkins Center for Health Security.
Meanwhile, a scientific panel is meeting to provide guidance on who should be at the front of the line when the first vaccine shots are approved and become available in the US. Healthcare workers and nursing home residents will be top contenders.